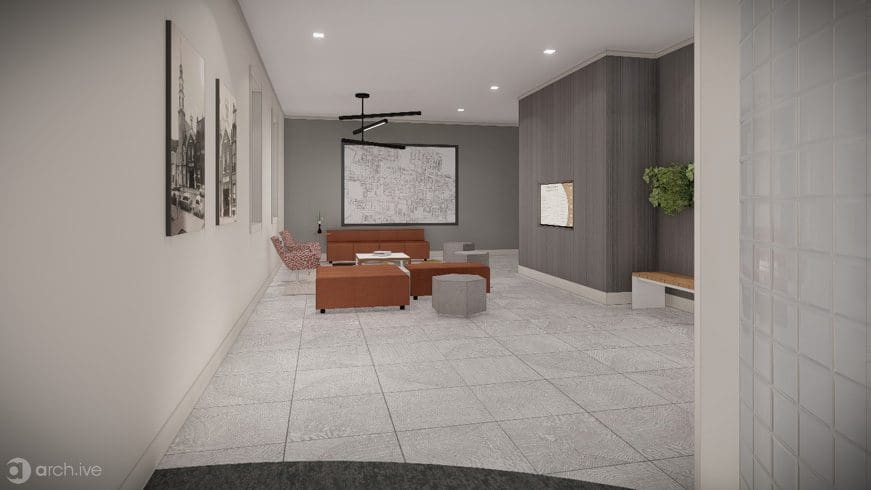 Frederick, MD – When Ruppert Properties acquired the Firehouse Financial Center located at 12 W. Church St. in June of last year, they saw an opportunity to add a modern feel to a historic downtown building.  The Firehouse has been completely updated with a new modern lobby and five renovated office suites that are move-in ready.  The suites range in size from 1,040 square feet to a 2,600 square foot second floor suite with a loft.  There are both open floorplan and private office layouts available.
"We're excited to be able to take a building with such a rich history and give it a modern feel that fits with the downtown Frederick market," stated Ruppert Properties President Bill Meissner.  "Companies of all types continue to flock to downtown Frederick and we wanted to provide an office option that combines the local history with today's office demands."
The building touts one of the most centralized locations in downtown Frederick, located just off the corner of Church and Market streets.  The courthouse, City Hall and Winchester Hall are all within a block or less.  A continuously growing list of award-winning restaurants, coffee shops and shopping are just a short walk from the Firehouse.
"We've received nothing but great feedback on the renovations and the new layout of the building" added Brandon Cannon, Senior Associate with Ruppert Properties.  "There has been plenty of interest in the building so we anticipate quickly leasing these suites that are really sized in the sweet spot of downtown Frederick."
Fitzgerald Realty Group has been retained to handle the leasing at The Firehouse.  For leasing information, contact Seamus Fitzgerald at 301-698-1080 or seamus@frg.us.
Ruppert Properties is a privately held commercial real estate investment company that invests, owns and manages flex, industrial and office properties throughout the Baltimore/Washington metropolitan region. Their industry experience and hands-on approach to development, construction, leasing and management allows them to competitively serve a wide variety of users. For more information, visit www.ruppertproperties.com.