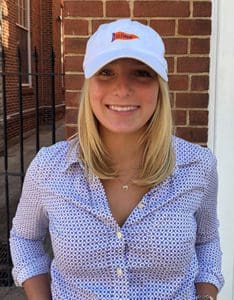 Frederick, MD – Ruppert Properties is pleased to announce and welcome Grace Meissner as an intern in the finance and accounting department. In this position, Grace will assist in all areas of accounting including accounts payable, accounts receivable, financial reporting, and lease administration.
"We're excited to have Grace as part of our team this summer and we're looking forward to helping further her experience these next few months. She brings with her an impressive work ethic and enthusiasm to learn about finance and accounting" said Brennan McMeeken, Director of Finance and Accounting.
Grace is a third generation Clemson Tiger majoring in Business and Finance. She is a President's Award recipient and a member of the Sigma Kappa Sorority. Grace plays tennis, is a member of the Clemson Sailing Club and will be playing club field hockey in the fall for the Tigers.
Ruppert Properties is a privately held commercial real estate investment company that invests,
owns, and manages flex, industrial and office properties throughout the Baltimore/Washington
metropolitan region. Their industry experience and hands-on approach to development,
construction, leasing, and management allows them to competitively serve a wide variety of
users. For more information, visit www.ruppertproperties.com.
###