Frederick, MD – Ruppert Properties recently completed construction of a brand-new, modern, flex office space offering individual offices and workstations at The Firehouse in downtown Frederick.
Completed in March 2022, the spacious offices come fully equipped with modern desk furniture, internet, and Wi-Fi. The unique space also allows for the option to lease dedicated desks in a quiet, common area. Access to high-end amenities – such as a conference room, kitchen, and phone booth for added privacy during calls – is included at no additional cost with the fixed pricing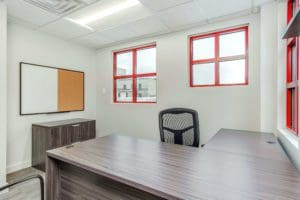 structure. Flexible six- and twelve-month terms provide businesses with the ability to pivot and expand as business needs evolve over time.
"The demand for flexible offices has only grown during the pandemic era, as remote employees seek alternatives to home offices", says Julie Ruppert, Property Manager with Ruppert Properties. "This concept allows us to provide a solution for businesses or individuals looking for flexible offices, while leaving them with the option to expand within the Ruppert Properties portfolio, if their needs grow beyond this workspace."
The shared offices are located inside the award-winning Firehouse building in Fredericks' vibrant downtown historic district. Fully renovated in 2018, Firehouse is home to 10,300 commercial square feet encompassed by four additional office suites. For more information on these shared offices, visit the website at https://ruppertproperties.com/properties/firehouse-suites/.
Ruppert Properties is a privately held commercial real estate investment company that invests,
owns, and manages flex, industrial and office properties throughout the Baltimore/Washington
metropolitan region. Their industry experience and hands-on approach to development,
construction, leasing, and management allows them to competitively serve a wide variety of
users. For more information, visit www.ruppertproperties.com.